Annual Bronco Picnic and Safety Inspection
Date/Time
Date(s) - 07/22/2017
8:00 am - 1:00 pm
Location
Model Yacht Basin in Mission Bay
Categories
We will hold our annual EBL/EBR summer picnic (as usual) at the south side of the Model Yacht Pond on Vacation Island in Mission Bay.  (You must tell us you are planning to attend.  See below!)
Here are the basic facts you need to know.
Although we don't eat until mid-day, we recommend you arrive early because we can't hold spaces and all Mission Bay areas fill up on weekends.
Bring your Bronco if at all possible because we conduct a safety inspection.  Do what you can to make sure everything works (all lights, horn, wipers, emergency brake, etc.) and we usually still find things you missed.  You should also have a fire extinguisher, tow strap and first aid kit in the Bronco.  All this to help each other.
Brandon will BBQ beef and pork provided by the club as the main dish.  

You need to bring sides or desert and drink.

 (non-alcoholic drinks only and no glass containers allowed).

Valesta will distribute a list among members to manage the sides and deserts.

Bring your own chairs and a hat and a jacket.  It can be warm or cool.
There will be a short meeting during the day for critical club business.
Active EBL club members are free.  Guests are $5 per person.
QUESTIONS?  Text Ron at 858-735-2296
All Bronco enthusiasts are welcome!
IMPORTANT!  To be sure we have enough meat to BBQ for all, you must respond to the Booking/Reservation link below just so we have a good idea how many are coming. 
Model Yacht Pond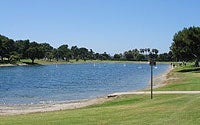 The Model Yacht Pond Area is open from 4:00 a.m. to 2:00 a.m. From I-8 to the Sports Arena Blvd. exit, make a right onto West Mission Bay Drive and continue straight to Ingraham Street. Cross over 1 bridge then make a left at the stop light to West Vacation Road. Parking is free.  The Model Yacht Pond is located on Vacation Isle, between Vacation Isle East and Vacation Isle West, just south of the Paradise Point Resort & Spa. The Pond itself is used for both sail and power model boats in races and regattas. The turf area south of the pond is a lovely area with plenty of shade trees and a fairly large grass area.  Food is allowed but no glass containers. Alcohol is not permitted. There are restrooms available on site.
Bookings
Bookings are closed for this event.